PVC Baked Coir Mats
---
PVC Backed Coir is an ideal entrance matting solution for high traffic areas, either indoor or covered outdoor. Ideally used recessed, this product can also be edged with heavy duty edging for loose laid applications. Manufactured from 100% natural coconut fibre bonded to a PVC backing, this product is environment friendly and will happily withstand heavy foot traffic. The coarse coir bristles provide excellent scraping to the base of footwear whilst being extremely moisture absorbent.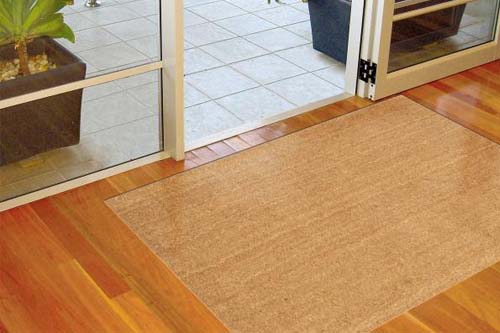 PVC Backed Coir is available in natural colouring as well as black and grey (both options are fully dyed and will not fade). Available in three thicknesses (17mm, 24mm & 30mm) and in 1000mm and 2000mm roll widths, PVC Backed Coir can be tailored to your measurements.
---
Features of this Products
Indoor and covered outdoor mat for high traffic entrances
High moisture absorption
Coarse bristle fibres provide excellent scraping to the base of footwear
PVC backing reduces the dislodging of coir fibres
Environmentally friendly product
Please write your requirements!